The amazing host of our gathering, Olga, wrote this up about last week's meet:
On Wednesday, the 20th of May, Steve and Matt gave a great workshop of open source mapping tools available to suit all of you, mapping enthusiasts', needs. If you have some data associated with a specific geo-location(s), this workshop would be a great way to learn how to plot it on a map.
In a nutshell, the evening provided an overview of two different mapping tools. Both do need some knowledge of web development and both can be used for free.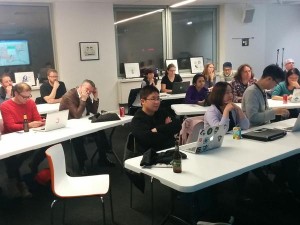 The first one is easy to work with for all of you, not very techy people. The mapping tool is called CartoDB. It can be obtained for free, but be wary the free version is the most limited one. Their website provides a lot of tutorials and examples. Also, Steve has gracefully presented how easy it can be to plot your data on a map using CartoDB in real time.
The second tool is for those with a bit more web-development knowledge, called LeafletJS. It is an open source javascript library for mobile-friendly interactive maps. It is quite easy to use and it has great documentation. There are plenty of examples provided as well. I would recommend to play with it even if you are not very tech savvy – take a look, challenge yourself to learn something new and exciting.
In any case, I am sure if you have any questions on how to user those tools, the peeps from OKFn who have the knowledge will be happy to help.