This weeks OK Melbourne Meetup saw a dozen or so attendees working on various Open Knowledge related projects, products and ideas.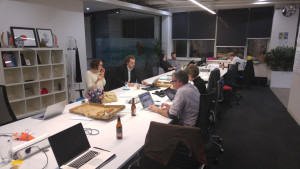 Matt and Ling made an enthusiastic start on collecting attributes of current http://data.vic.gov.au/ datasets to gauge machine-readability and bulk accessibility as a resource for the community.  The plan is to extend this to get an idea of what if any issues exist for access to and processing of available datasets, with a view to providing feedback to data owners.
The GovHack organisers made good progress deciding on their judging criteria and put together a tech panel.
Steve found himself 34 thousand new trees in Burnside South Australia and went through the process of adding them to http://www.opentrees.org/, showing newcomer Riza exactly what needs to be done when new datasets are released. He is the map guy after all!
Sarah and Nic took on the OK website to see whether it can be updated and improved! We look forward to seeing their suggestions.
Meanwhile, Bozo and The Clown (Lachlan and Fiona, I asked who was who, but they refused to tell me!) hacked on some funding applications for OpenGLAM initiatives.
Thanks to post author, Ben Lyall, one of Open Knowledge Melbourne's new attendees.